Company
A meeting in charge
Jun 9, 2022
On a sunny day in May, Nexans is on site in Gnosjö. Next to a paddock where the horses graze on the spring green grass is the charging box manufacturer Garo's parking lot, where seven new 22kW charging boxes has been installed. Davids Elteknik has done the work and today co-owner Mattias Färnemyhr and electrician Anton Norrhult are here to connect the last cables and complete the project.
Sales of EVs are steadily increasing, how does this affect you?
We thought we did a lot of installations for EV charging already but this year it has rapidly increased and we do jobs like this at least once a week nowdays. It is fairly even between individuals and companies, the difference is the amount of chargers installed in the same place.

What are the challenges of an installation like this?
There are generally no major challenges but we always start with a dialogue together with the customer to identify their demands and needs.

You have chosen to work with Nexans cable MXQ Easy™ Control, why?
We've been working with your cable EQLQ Easy for a long time when installing simpler charging boxes, so the choice was not difficult when our co-owner Magnus proposed MXQ Easy™ Control for this project. He is well aware of news in the industry.

How fun that we get to visit the first time you work with MXQ Easy™ Control, how was it to work with?
Incredibly smooth. Two cables in one, you immediately get both power and control. Easy to peel and time efficient. Appreciate the soft "M" conductor that makes installation easy in narrow spaces.
" Combining power, control and the possibility of load balancing with one and the same product will apply for several years to come. "
Mattias Färnemyhr
Partner, Davids Elteknik
What are the differences from other cables you worked with?
The cable meets all installation rules and comes as a two-in-one solution which saves a lot of time.

It sounds like you will continue to use the cable?
Absolutely, it was so easy to work with that there is no reason to switch to anything else.

Does it feel like today's installation is future-proof?
Yes, as the market looks right now. Combining power, control and the possibility of load balancing with one and the same product will apply for several years to come.

If you have to predict further about the future, what will be required of cable development? For the market of EV charging it depends on how the chargers themselves develop, so we will see.
8 employees, Davids Elteknik
Davids Elteknik was founded in 2007. The company install, program, design and repair electrical, KNX, alarms, passage and network systems.
500 employees, Garo
Garo was founded in 1939. They work with development and manufacture of products in electricity and e-mobility.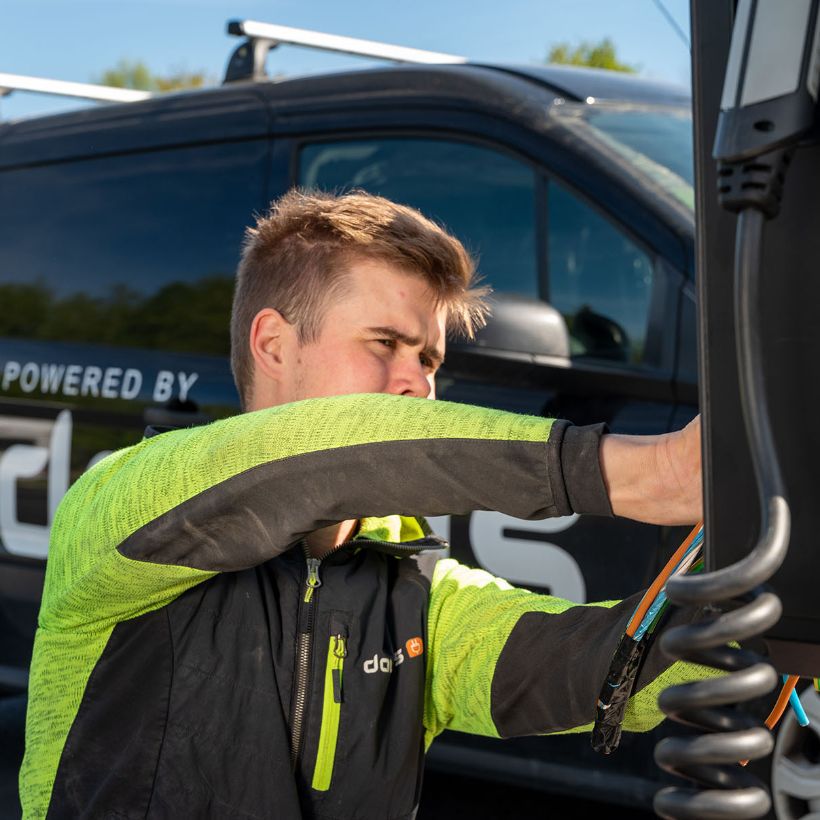 We thank Davids Elteknik and Garo for choosing Nexans MXQ Easy Control and for allowing us to visit you on site.

We leave the horses grazing next to charging EVs and continue our sustainable work to electrify the future.
Data sheet MXQ Easy Control
Our websites
Select your country to find our products and solutions