Evermark – connects analog to digital
Evermark is Nexans' new digital service that connects your physical installation with the necessary documentation. Always easily accessible before, during and after the electrical installation, regardless of whether you are on site or not. With Evermark, you place NFC tags in you installation. The next person with access can scan the tag and easily retrieve all updated information regarding the installation. The information is stored and saved digitally in one place with easy access through the app or the website interface.
A new generation of labelling
Evermark consists of a software available via app or browser, as well as hardware consisting of cable ties and adhesive tags. The cable tie tags are attached to the cables you want to mark and the adhesive tags are used to mark, for example, the electrical switchboard. The tags have a built-in NFC chip, which means you can scan them with your phone and get all the information in a simple interface. The NFC tag can be used even when you do not have an internet connection, the information is updated as soon as your mobile/mobile device is connected again. The technology is not dependent on good lighting conditions, which may be required when, for example, you should scan a QR code.
Advantages for the Facility manager
•A long term, reliable system
•Maintenance and service made more effective
•Secure storage of information
Advantages for the Installer
•Smart and time-saving service for your employees
•Easily accessible information for the person concerned
•Gain a good overview of all projects
Advantages for the Technician
•All information in one place
•Save time with traceable installations
•Access to information on and off site
Why Evermark?
Do you recognize yourself in the following situations?
The electrical documentation is not close at hand, or accessible at all
The documentation is in several places – digital and physical, or lost
The marking for the electrical cabinet is missing
The latest update is not documented, making the information outdated
The former electrician can't be reached, or located
We fixed it!
Evermark® is the solution that safely connects your installation to the documentation for easy access, traceability & information management. The advantages are:
→ Time efficiency – from hours to minutes to find, update and share information
→ Cost efficiency – less administrative work and no information loss
→ Productivity – easy to use, no additional tools for access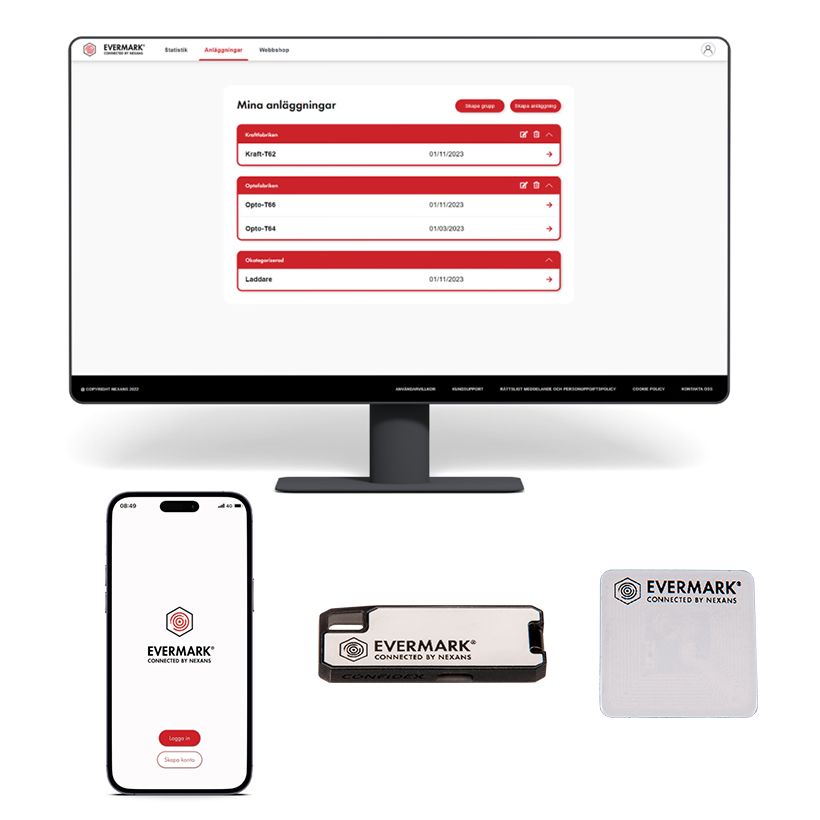 Simple accessability and traceability in a safe way
Accessability
– Smart tags for easy labeling
– easy to use app for documentation
– possible to upload images
Traceability
– all documentation in one place
– see who performed the work
– direct access to updates
Secure data storage
– unlimited space for storage
– information available on and off site
– cloud-based storage and secure backup.
Early Adopters, make yourselves heard!
As part of our vision to Electrify the Future, Nexans Sweden digitizes the link between electrical installations and necessary data and information. We do this with all installers, property owners and businesses in mind. Together with you, we can affect how we want it in the future and add functions according to your wishes. Therefore, we ask all of you who jump on the train to the future at this stage to give us feedback. This way, we can influence the solutions of the future together, starting today with you and Nexans Evermark.
[ Early adopters ]
Early adopters who, in addition to using the vendor's product or technology, also provide significant and honest feedback to develop the product. The relationship provides synergy for both users and developers.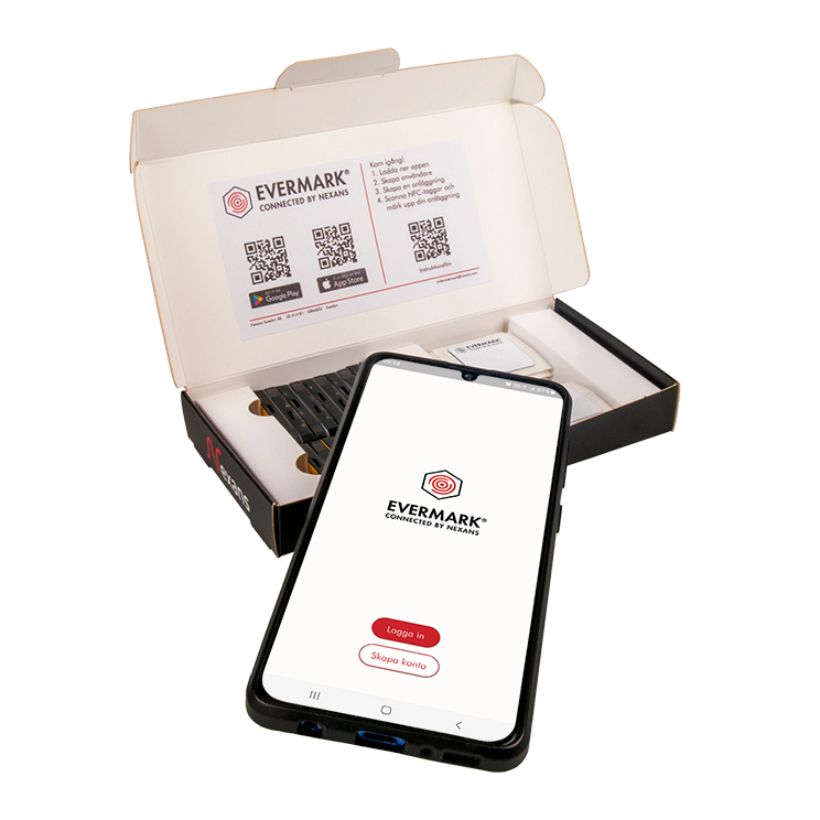 FILM ON HOW TO USE EVERMARK®
To use Evermark, you need to create a free account at the link above. Your account will give you access to the software in your browser/mobile app. Click on webshop to order the NFC tags. There are currently three different starter kits to choose from at a reduced price.
You will find more info on our FAQ page.
Our websites
Select your country to find our products and solutions